Capitone in Umido
Information
Chef
Julio Shiratsu
Primary Ingredients
Eel
Cuisine Type
Italian
Dish Type
Seafood
Menu Category
Main Course
Media Appearances
Manga Debut
Chapter 215

Capitone in Umido is a dish made by Julio Shiratsu against Satoshi Isshiki during the 1st round of the Rebels Vs. Central Régiment de Cuisine.
Description
Edit
Stewed eel served with thick tomato sauce from San Marzano tomatoes and garnished with polenta cakes. Eating this dish induces the sensation of being pinned and squeezed by a voluptuous bust.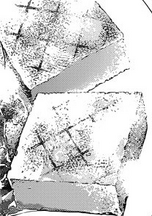 Capitone
Olive Oil
Salt
Pepper
Onions
Garlic
White Wine
Tomato Sauce

San Marzano Tomatoes
Spices

Polenta
Real Facts
Edit
--TBA--
Capitone is an Italian name for the females of the larger eel species served around Christmas time in Italy.
In Umido is Italian for stewing.